The Australian menswear brand retailers have relied on since 1994
The maurio and Cartane brands are well known and established brands representing high-quality men's and boys' casual and business wear available through retailers all over Australia.

The company has been supplying retailers in Australia for over 25 years and in that time the company has built up a reputation for quality, consistency and reliability. Retailers have come to trust the brand for delivering on its promise, and that is why we are still here today!
SUMMER 2022 RANGE
Our Summer 2022 Range is now available to order. We've got a fabulous range of casual long-sleeve shirts as well as dobby polos, long-sleeved polos, 1/4 zip fleece, subtle v-neck jumpers, flannel hoodies, jackets, cargo pants, and jeans. We're sure you're going to love the range – and your customers will too! 
  Please request our Summer 2022 catalogue for pricing and detail
Please also ask for our Stockline Catalogue.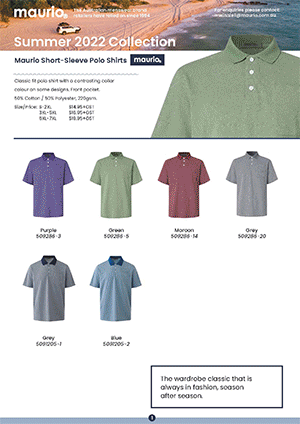 ALWAYS IN STOCK
Our stockline range means that you can order the quantity you need, taking comfort that when stock runs low, we're here for a prompt re-supply.
CHOICE
We offer a wide selection of men's clothing with sizes from S to 7XL, exciting color ranges and innovative fabrics.  Our seasonal ranges keep the choices fresh.
SERVICE
Our years of experience mean that we understand the needs of our retailer clients and we take pride in delivering on the things that matter to you.
VALUE
We can only flourish if our retailers are doing the same. We ensure competitive pricing for quality products so retailers are always able to stand out in the market. 
Suits, vests and jackets for business and formal occasions as well as accessories such as ties and socks.
MAURIO JUNIOR
Stylish range of boys' shirts, suits, vests and neckties for formal occasions.